OBMI Takes Bermudiana Beach Resort to New Heights
Nestled along the breathtaking south shores of Warwick Bermuda, will be the home of the fully redesigned Bermudiana Beach Resort.
Since March 2018, property owners Bermudiana Development Corporation Limited, have focused on transforming the ocean view condominium complex, into a mid-market boutique resort. The development brings together a collection of industry experts, including MacLellan & Associates, Coldwell Banker Bermuda Reality, Bragg & Co. Ltd. and OBMI Bermuda's Colin Campbell, the project's lead architect, and landscape architect Jennifer Davidson.
In July, 2019, The Hilton Brand announced they would add the oceanfront property to its Tapestry Collection. The signing marks the first Hilton branded hotel in Bermuda, and is to be recognized globally as the Bermudiana Beach Resort, Tapestry Collection by Hilton.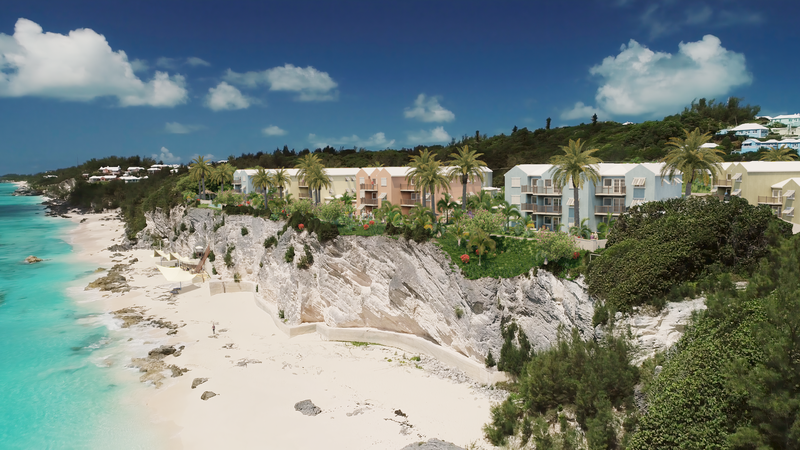 The property will comprise of 90 fully furnished hotel residences across nine buildings. Every condo unit well be renovated to include contemporary designs, comfortable living spaces, new kitchens and bathrooms, extra windows and new floor coverings. The composition of each condo range from well-appointed studios to three-bedroom units. All units will offer a terrace or balcony, while the majority will enjoy full or partial views of Bermuda's magnificent turquoise waters below.
With the guidance OBMI Landscape Architect, Jennifer Davidson, the grounds of the Bermudiana Beach Resort will be designed to embody a modern and sophisticated look and feel. The challenges of converting a flat landscape into a hotel-resort environment, were overcome by employing a variety of innovation solutions. To reduce amount of existing asphalt, a water pervious surface was used in the parking lots, electric car charging bays and pedestrian walk-ways. At the same time, grass pave was used throughout the interior circumference of the grounds. Grass pave is only durable to withstand vehicular traffic, but also compliant with the standards of the Americans with Disabilities Act (ADA). This technique was also adapted in the gym entrance design, making it more accessible to those with disabilities. Jennifer was equally instrumental in the selection and placement the property's flora. Hearty native plants were placed on the south side of the property, as lush greenery and vibrant florals were methodically selected to preserve privacy and enhance the exterior aesthetics throughout.
Outside of having an impeccably manicured yard, there are added benefits to living in a resort style hotel. OBMI and the team of developers designed upscale amenities that are conveniently available directly on site. Such as, a spectacular cliff-top infinity pool, ocean view restaurant and bar, spa and massage services, fully equipped fitness centre and yoga terrace, outdoor fire pits, meeting facilities, and an elegant wedding and events lawn. Additionally, all condos are also fully-serviced with, housekeeping, grounds maintenance, gardening, property repairs, and a reception team to welcome guests on arrival.
The most unique feature is the impressive two-car funicular elevator built into the cliffside, taking guests to and from a pristine and private beach below.
Phase 1 sales of the Bermudiana Beach Resort, officially launched October 2018. Since then, the development has gained local and international interest. The cost for the units start at $375,000 for studios, $417,000 for one-bedroom condos, $558,000 for two- bedroom condos and $750,000 for three-bedroom condos.
Each condo is being sold on a 999-year leasehold basis. Under the lease agreement, the owner is able to occupy their unit for up to 90 days each year. For the remaining 275 days, the condo can be rented out through a professional hotel rental team and the Tapestry Collection brand. It will be managed by an experienced onsite management company. Buyers of the three-bedroom unit will have the ability to rent out a part of their condo via a lock-off system, allowing them to occupy the remainder of their unit in complete privacy.
An exclusive advantage to being part of the Tapestry Collection by Hilton, is the access to the hotel giant's 24/7 global reservations systems, robust loyalty program and their global brand recognition.
OBMI Bermuda is proud to be a part of a venture that provides locals and non-nationals the opportunity to purchase an oceanfront condo at a moderate price point.
The sales terms are ideal for Bermudians looking to accommodate extended family from abroad, or downsizing to spend time abroad themselves. Alternatively, it suits those in the east coast seeking a vacation home. What makes it more appealing is the worry-free ownership, with a professional team to rent and manage your property.
Coldwell Banker Bermuda Reality is the sole listing agent for the condominiums. Interested buyers in Bermuda are encouraged to visit the on-site sales office or contact Heather Chilvers at 441-232-6000. Further information can be found at www.bermudiana.com, or by following the Bermudiana Beach Resort on Facebook,Twitter and Instagram.